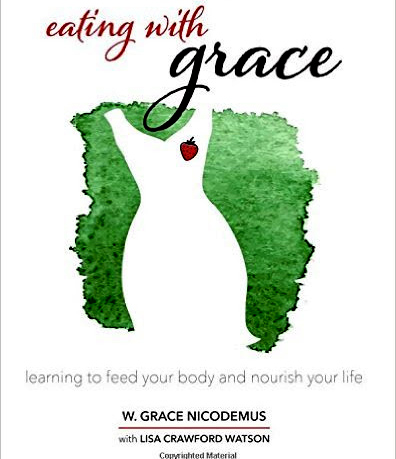 Book Signing and Recipe Tasting
Meet Local Authors
Grace Nicodemus & Lisa Crawford Watson
Saturday, December 5th, 2015 1 p.m. to 4 p.m.
"Eating with Grace" This is a book about permission. It's a book about feeling good and eating well, and learning that both are worthwhile. It's about understanding that the "bread of life" is more than a plate of food, that food is only part of what nourishes us. Rev.Grace Nicodemus spent her youth trying to compensate, measure up, be enough, and learning to associate her worth with her weight. After enrolling in the Institute for Integrative Nutrition, she learned how much more there is tonourishment than food. She learned what it truly means to eat healthy, and how to prepare nutritious meals to the benefit and satisfaction of her family. She also became a certified health coach, knowing that her greatest healing would come through helping others along a similar path.
The newly released Eating with Grace, told by Rev. Grace and written by author Lisa Crawford Watson, is a story of Rev. Grace's own journey toward wellness, which removes blame from the consumer, looks at what's really going on behind our food and our feelings, and offers up a safe haven for the rest of us to recognize ourselves and the way out of whatever it is that weighs us down. Pairing her story with information and exercises, plus Chef Paola Mikes' healthy recipes,and photographer Philip Geiger's enticing color images of delicious food, Nicodemus serves up plenty of food for thought - and action.
Rev.Grace Nicodemus has a private practice for individual and group health coaching. For more information, call 831-747-4222.